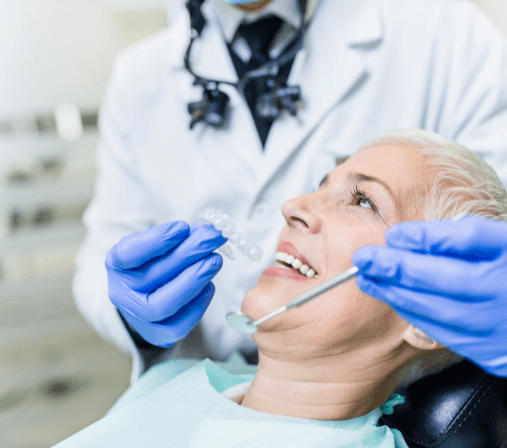 Benefits Of Invisalign For Adults
Thinking about having Invisalign treatment? Know a friend or family member who's interested? Or simply wanting to find out more about this revolutionary treatment? Whatever the reason you're your interest, we'll go behind the scenes of this incredible teeth straightening process in today's blog post, by highlighting a few of their benefits.
Clear and discreet
Our patients here in Pontefract love how discreet Invisalign treatment is. Most people can't tell you're wearing them as they're crafted from clear acrylic, which makes them ideal for teens and self-conscious patients. There are no wires, elastics or brackets in here – hence the nickname of 'invisible braces'.
Easy to remove
Taking your brace out by yourself might sound revolutionary – and it pretty much is. Fixed braces need a trip to the dentist's to get them off, whereas Invisalign lets you take a break now and then. Just remember to wear them for at least 20-22 hours per day to ensure they're doing their job.
Straightforward treatment
It's easy to sign up for Invisalign. Here's how it works.

1. Book a consultation at our dental practice here in Pontefract
2. If approved for Invisalign, we'll take scans of your smile and create images of your results
3. Wear your aligners as directed, changing sets every few weeks
4. Track your progress on the Invisalign app, and book in with our dental practice for check-ups
5. Enjoy your amazing results! Wear a retainer as directed, to keep your smile straight
6. Take a look at other treatments to further boost your smile, like teeth whitening
Simple to care for
Whenever you remove your Invisalign, rinse them, then pop them in a case to protect them from breakage (or loss!). Then, just clean your teeth as normal. It couldn't be easier!
Suitable for teens
Just like adults, most teens can have Invisalign treatment. Just think what a difference it could make to their confidence, let alone appearance, especially as many teenagers can be shy about their looks.
Tons of oral health benefits
Fromm straightening crowded teeth to closing gaps (both problems which affect how well you can clean your teeth), as well as bite issues that can lead to tooth wear and associated pain, there are so many good reasons to try Invisalign's invisible braces.
Want to know more?
We'd love to talk you through invisible brace treatment and try you out for a consultation. If you're interested in Invisalign and want to know how it could benefit your smile, then all you need to do is contact us and we'll arrange for a consultation at our Pontefract dental practice very soon.