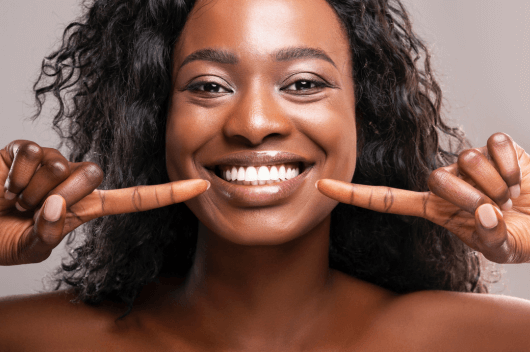 Can anyone have composite bonding?

Composite bonding is an innovative dental procedure that can help transform your smile and restore your confidence. It involves the application of a tooth-coloured composite resin material to the teeth to enhance their appearance and correct any imperfections. This procedure is a popular choice for individuals looking to improve the shape, size, or colour of their teeth, as it offers a minimally invasive and cost-effective solution. At Ropergate Dental in Pontefract, our skilled dentists use the latest techniques and materials to ensure a natural-looking and long-lasting result.
Composite bonding can address a variety of dental issues, including chipped or cracked teeth, gaps between teeth, misshapen teeth, and discoloration. The process begins with a consultation with one of our experienced dentists. They will assess your dental health and discuss your goals and expectations. If bonding is deemed suitable for your needs, the dentist will carefully select a shade of composite resin that matches the colour of your natural teeth.
The next step involves preparing the tooth surface by gently etching it and applying a bonding agent. The resin is then applied in layers and shaped to achieve the desired result. A special light is used to harden each layer of the resin, ensuring a strong bond with the tooth. Once the desired shape and appearance are achieved, the dentist will polish the composite material to blend seamlessly with the rest of your teeth.
Benefits of Composite Bonding
Composite bonding offers numerous benefits that make it an attractive option for those seeking to enhance their smile. Firstly, it is a relatively quick and straightforward procedure that can often be completed in a single visit. Unlike other dental treatments that require multiple appointments and invasive procedures, composite bonding can provide immediate results with minimal discomfort.
Another advantage of composite bonding is its versatility. The composite resin material can be moulded and shaped to correct various cosmetic issues, such as closing gaps between teeth, repairing chips, and reshaping misaligned or irregularly shaped teeth. It can also be used to cover stained or discoloured teeth, giving you a bright and radiant smile.
One of the most significant benefits of composite bonding is its natural appearance. The composite resin material used in this procedure is carefully colour-matched to your natural teeth, ensuring a seamless blend. The result is a smile that looks and feels completely natural. Moreover, the composite material is stain-resistant, meaning your newly enhanced smile will remain bright and beautiful for years to come.
How Long Does Composite Bonding Last?
One common question patients have when considering composite bonding is how long the results will last. While bonding is not considered a permanent solution like veneers or crowns, with proper care and maintenance, it can last for many years. On average, composite bonding can last anywhere from 5 to 10 years, depending on several factors.
The longevity of composite bonding is influenced by lifestyle habits, oral hygiene practices, and the extent of the original dental issue. Avoiding habits such as biting on hard objects, chewing on ice, or using your teeth as tools can help prolong the lifespan of the bonding. Additionally, maintaining good oral hygiene, including regular brushing, flossing, and dental check-ups, is essential to prevent decay and ensure the longevity of the bonding.
In some cases, the bonding may require touch-ups or repairs over time, especially if you experience any damage or staining. However, with proper care and regular dental visits, your composite bonding can continue to enhance your smile for many years.
Composite Bonding vs. Other Dental Procedures
When considering dental procedures to improve your smile, it's essential to understand the differences between composite bonding and other options available. Two popular alternatives to bonding are porcelain veneers and dental crowns. While each option has its own advantages and disadvantages, the choice ultimately depends on your specific needs and preferences.
Porcelain veneers are thin shells that are custom-made and bonded to the front surface of the teeth. They are highly durable and resistant to staining, providing a long-lasting solution for a beautiful smile. However, the process of getting veneers involves removing a small amount of enamel from the teeth, which is irreversible. Veneers also tend to be more expensive than composite bonding.
Dental crowns, on the other hand, are tooth-shaped caps that cover the entire visible portion of a tooth. They are typically used for more extensive dental issues, such as severely damaged or decayed teeth. While crowns offer excellent strength and durability, the procedure requires more tooth preparation and often involves two or more dental visits. They are also more expensive compared to composite bonding.
Ultimately, the choice between composite bonding, veneers, or crowns depends on the specific condition of your teeth, your budget, and your desired outcome. Consulting with a skilled dentist, such as those at Ropergate Dental in Pontefract, will help you determine the most suitable option for transforming your smile.
Book your treatment with us
Composite bonding is a versatile and effective dental procedure that can help you achieve a beautiful and confident smile. With its natural appearance, quick treatment time, and long-lasting results, bonding offers a viable alternative to more invasive and costly dental procedures. If you are considering enhancing your smile, contact Ropergate Dental in Pontefract to schedule a consultation and discover how composite bonding can transform your smile.