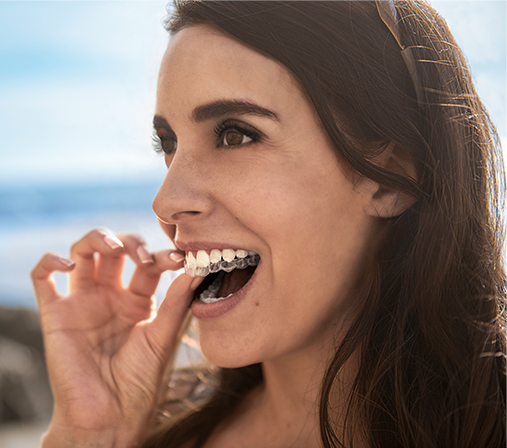 How To Clean Invisalign Retainers
Whether you've already started your Invisalign journey or you're simply looking into teeth-straightening treatment, it helps to know all the ins and outs about what's involved. In this post, our team of dentists here in Pontefract show you how to care for your Invisalign – specifically, how to keep them sparkling clean.
Why is it so important to clean my Invisalign?
There are lots of reasons. First of all, your Invisalign is a clear brace – so if it's not kept clean, it could become stained or discoloured. Secondly, it should be worn for the majority of the day – so if you're not cleaning it properly, it could affect your oral health.
When do I clean my Invisalign?
Whenever you take it out, and whenever you usually brush your teeth (such as after breakfast and the evening meal). Although a quick rinse here and there can work wonders, you'll also need to soak it in Invisalign crystals or denture cleaner every couple of days. Follow the pack's instructions so you know how much to use and how long to leave it. Don't use anything else – toothpaste, dishwasher liquid – as this can degrade the plastic or lead to staining.
How do I clean my Invisalign?
It's best to use a soft-bristled toothbrush to give it a good once-over and dislodge any food particles (though, remember – you shouldn't eat while wearing it). Alternatively, you can use a soft cloth. Store it in its case if you aren't cleaning it, but need to pop it somewhere safe.
How often do I wear my Invisalign?
Pretty much the entire day – or at least, between 20-22 hours of it. You might be able to take it out for a special occasion, though – but it's always advised to talk to your dentist about this.
What else do I need to know?
There are a few general tips it's good to know when considering Invisalign.

– Always wear as directed, and change to your next set when recommended.
– Never wear your Invisalign when eating, chewing, or drinking (water is fine).
– Wear the braces for around 20-22 hours per day to stay on track with treatment.
– Download the app to help manage your Invisalign and record your progress.
– Get in touch with your dentist if you have pain, sensitivity or concerns about your treatment.
Book with Ropergate
Our friendly team are happy to help with your Invisalign treatment. Simply get in touch with our dental practice here in Pontefract, and we'll arrange a consultation at a time to suit you. We hope to see you soon.